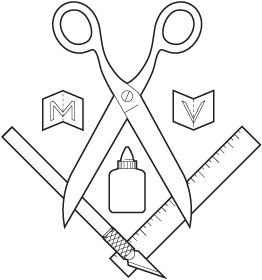 SECRETS of the PAPER CRAFT
To begin building your model of the Capitol, examine the instructions and the materials on each page carefully. As Architect of the Paper Capitol, you will transform these flat pieces into a three-dimensional replica and gain knowledge of the real structure.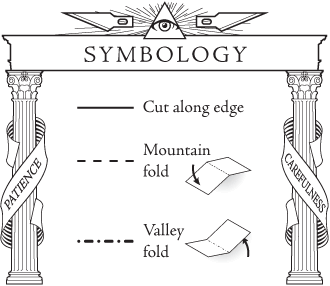 Once you have cleared a space for the foundation on your work table, lay out the tools required. The tools of the Paper Craft are few in number but each teach unique skills and can provide important lessons:

Scissors may be used to cut out the pieces, but a hobby knife will follow the complex outlines more precisely. A new knife blade makes cutting faster and easier.

Use a metal ruler or straightedge to guide the knife carefully along the edges of the pieces. A cutting mat provides a sturdy work surface so that you do not mar the kitchen table.

Connect the pieces of your model in union with ordinary craft glue for paper. Apply the glue sparingly and evenly to the tabs. Squeeze the pieces together with tweezers to make the glue set quickly.
You may wish to lay the cornerstone of your project with an appropriate ceremony just as George Washington did in olden days, with a jaunty march around your work area, and offerings of corn, wine and oil.

To make crisp folded corners, scratch the surface of the paper with a scribe or a hobby knife run gently along the dashed fold lines. Fold along the scored line to create a "mountain" fold

For the reverse or "valley" folds, poke the tip of a knife through the paper at the little triangles at each end of the dotted lines, then flip the paper over to scribe the fold line on the back side of the page.
Supported by the pillars of Patience and Carefulness, complete each step without rushing, keeping a watchful eye on the knife blade. First Degree or novice builders are advised to keep a bandage at hand in case of accidents.
If you are a Higher Degree (more-experienced) paper builder, you may choose to add more detail to the model by cutting out the spaces between columns or assembling smaller pieces, as detailed in the instructions on each page.

The apotheosis of your paper edifice is the crown of Freedom atop the grand dome. After you have completed the model, glue the Capitol to a sturdy display stand and add miniature landscaping to show off the fruits of your labor.