Near the Mitad del Mundo monument marking the equator north of Quito there is a small museum showcasing "Quito in Miniature". The well-preserved colonial center of Quito was the first designated UNESCO Heritage Site along with Krakow in 1978. Artist Guido Falcony Palacios built this 1:200 scale model of the central city by hand from cardboard and wood. The project took over eight years and was created from sketches and photos of every structure in the old colonial district.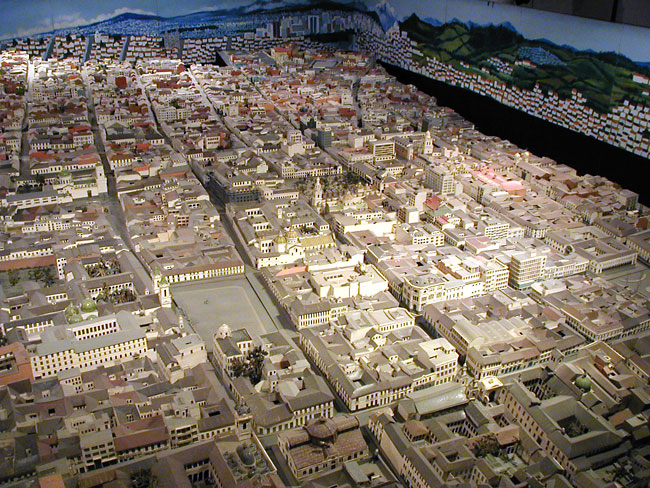 The model is viewed from an elevated walkway around the edge of the room. A mural wrapping around the viewing platform depicts the great mountains around the city and the surrounding neighborhoods spilling up the hillsides on every side.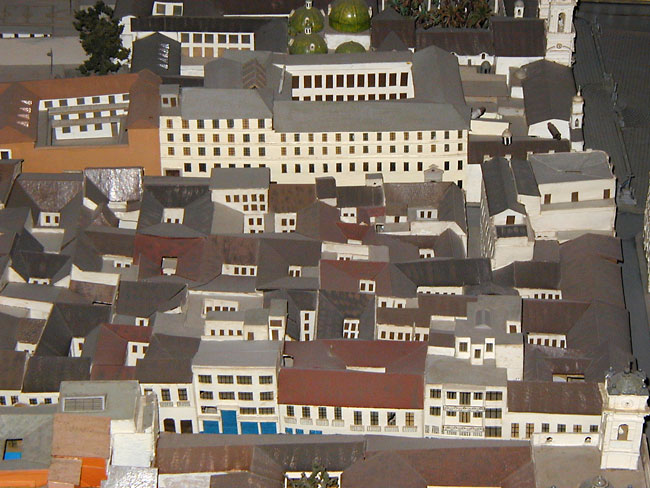 Just off the Plaza San Francisco we see a densely packed block of traditional courtyard houses. Every building in the model includes a lot of detail, with painted windows, balconies and multi-colored rooftops. The complex jumble of tiny walls and interior spaces makes a lively texture.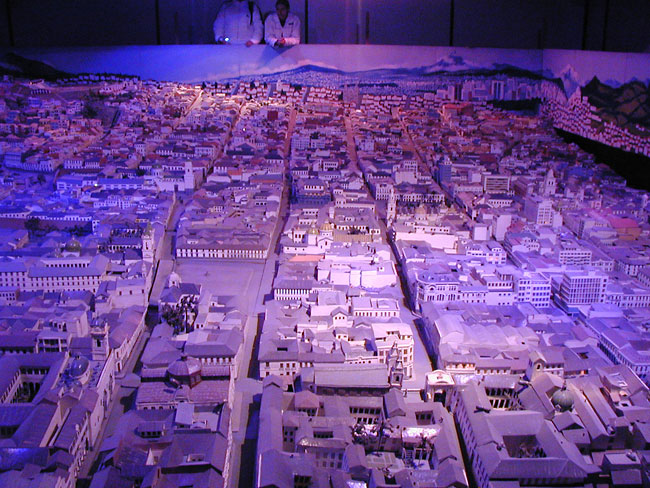 Every ten to fifteen minutes, the overhead lights dim and day ends for Quito in miniature. Many of the little houses have bulbs hidden inside and translucent windows, making a charming nighttime scene.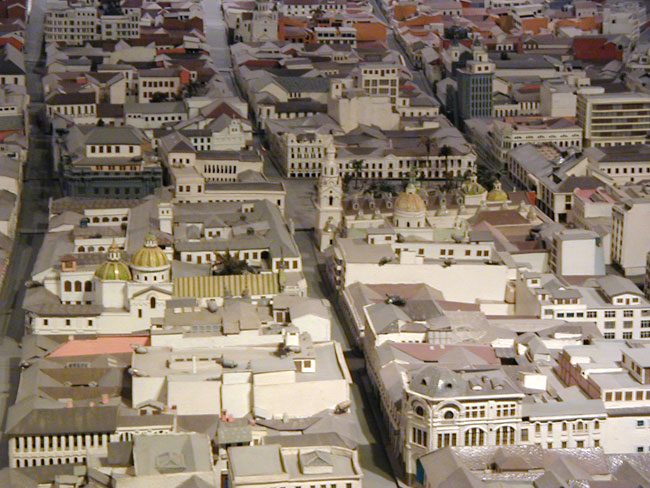 The artist has taken care to include three-dimensional details of domed churches as well as notable corner houses and modern structures.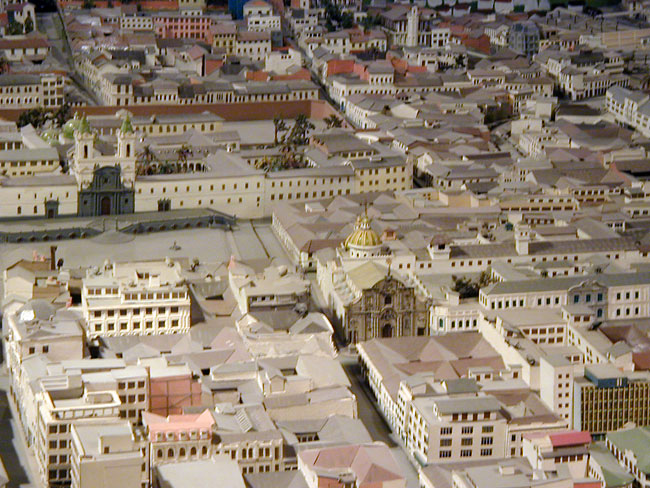 Another view of the Plaza San Francisco with the Convent of St. Francis begun in 1534 on the left and Church of the Society of Jesus begun in 1605.
The narrow passages of the colonial city make it difficult for the visitor to get a view of the tall churches or any other landmark which might help navigate the dense blocks of buildings. Only the open plazas provide wide vistas of the extent of the old city.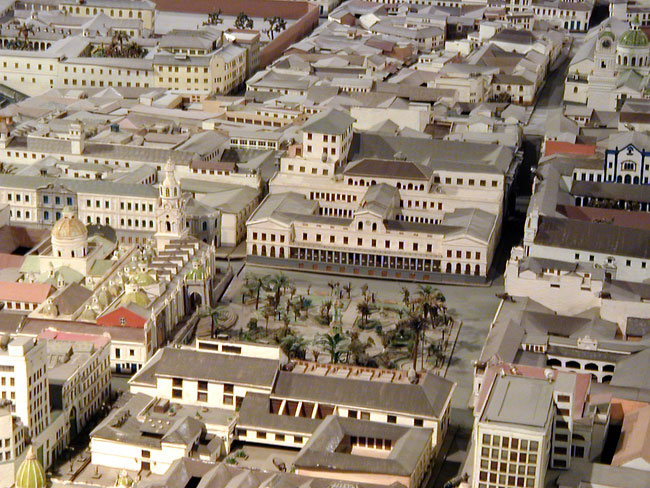 The Carondolet or Presidential Palace and Cathedral of Quito overlooking Plaza de la Independencia.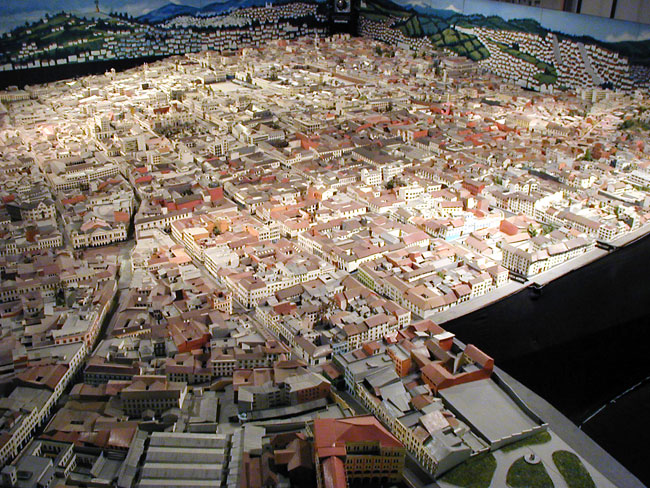 The handcrafted warmth of the Quito en Minatura model has more in common with the handmade model of Prague built by Antonin Langweil than with impersonal feel of city models made by teams of workmen and professional modelmaking firms.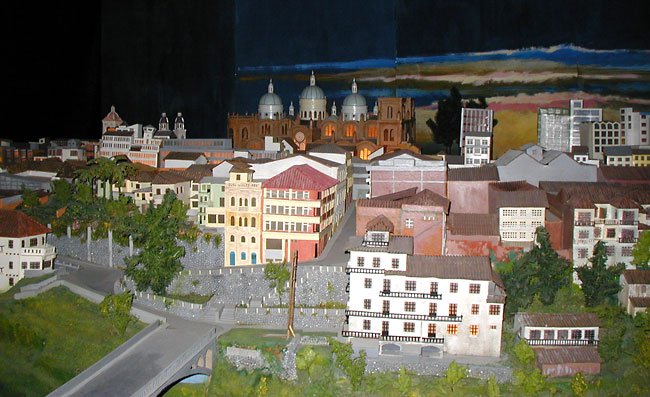 Smaller displays in the hallways of the museum showcase models of the Barranca riverbank center of Cuenca, and the Malecón riverfront skyline of Guayaquil.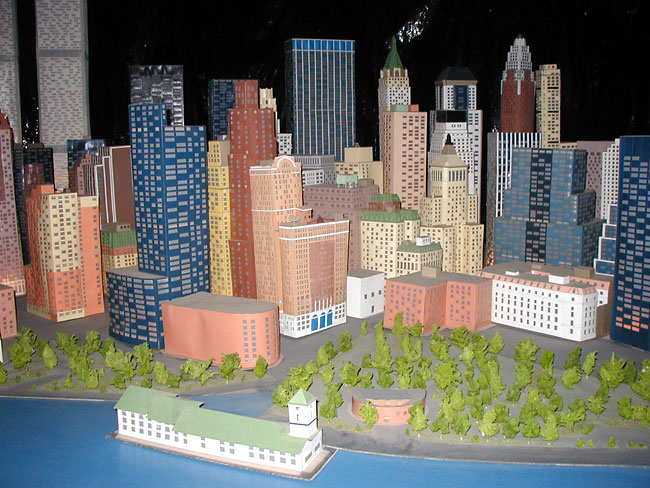 There's even a cardboard model of New York! The geography is a little compressed, but Bowling Green and the buildings of Lower Manhattan can be seen. The skyline and details of this model seem less successful than the Quito model, perhaps because the local city model is informed by familiarity and easy reference to the original location.
The busy artist of the Quito city model, Guido Falcony, has also produced a number of art posters and highly-detailed birds-eye-view maps of Quito and other cities based on the research used to make the 3D models.
---