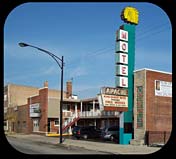 I've just received several boxes delivered from the printer. Its the packaging for a new Wurlington Press project: 3D View-Master reels with photos of Chicago signs and roadside architecture. Each reel includes seven 3D photos, and comes with a small booklet telling the history of the signs and businesses pictured. The three subjects are: Motels of Lincoln Avenue, Chicago Hot Dog Stands, and Route 66 in Chicago.
The three reels should be available for sale within the next week or two when the View-Master reels are ready.
You can read more about the project at the Wurlington Press View-Master page.