March 1989
April 1989
June 1989
March 1989
August 1989
April 1990
July 1990
August 1990
October 1990
January 1991
July 1991
December 1991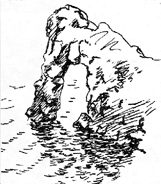 Sea Lion Rock
by Matt Bergstrom
If you turn off the Terry Fox Courage Highway at Pass Lake, Ontario, at the Pass Lake Truck Plaza, and head down the winding two-lane road through Sleeping Giant Provincial Park, fourty-some kilometers down the Sibley Peninsula, at the very end, the road becomes dirt and you have reached Silver Islet, Ontario.
The dirt lot in front of an square wooden building overlooked a small harbor protected by an island (Silver Islet?) from Lake Superior's frequent storms. A sign on the building proclaimed: STORE. Inside the store we found quaint wooden counters and an old scale in the corner for weighing produce. It appeared to have not changed since the old days, when the town was presumably a silver mining town. But it was not quite the same. The store offered some small food items and tasteful souvenirs, but nothing to really live on. Silver Islet was no longer a mining town but a village of cabin retreats.
Someone had drawn placemats of the older and more unique houses of the town. On the wall, a series showed all the landmarks of Silver Islet. The woman behind the counter told us how to find one of the places, the Sea Lion. Before a storm a couple years ago, it had a rock on top that looked more like a sea lion. We were to drive up the road again and take a left after the second right, at Hal & Arlene's driveway. The woman said it would be alright if we parked in their driveway, as long as we didn't block it. Then a sign would direct us to a path.
We walked through a lichen and moss pine forest, up over a rock outcrop and there was the Sea Lion. It was a tall fin of rock jutting out into Lake Superior, with a hole where waves could wash through it. From twenty-five feet above, our cliff looked down onto a small cove of crystal cold water between us and the Sea Lion. Some pattern of waves reflecting from the fin and undercut cliffs created a foamy area out in the water that never washed away. The fog that had been dogging us for days waited just offshore and eventually crept in front of Sleeping Giant mountain. We continued along the cliff to just above the Sea Lion. It was only three or four feet wide, clung with dwarf aspen and cedar trees.
Somehow, this fragile rock, no longer the shape of anything recognizable, at the end of a path from a town that was no longer a town, at the end of a dead end road, had captured enough of the spirit of this place to keep its name in the hearts of the people who lived here.