---
Windmill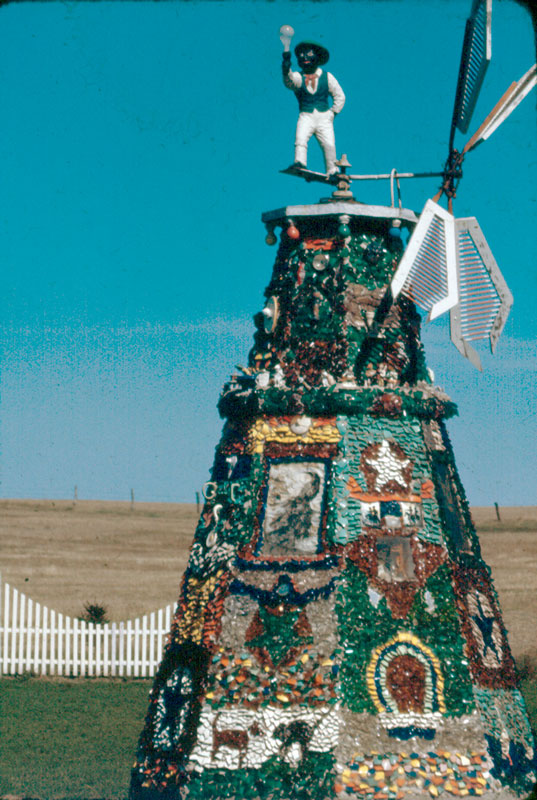 photo courtesy Richard Moldenhauer
This windmill or lighthouse was the first sculpture made by Mollie Jenson. Homemade windmills and lighthouses were popular yard embellishments in the 1930s and plans were common in such magazines as Popular Mechanics. But Jenson didn't just follow a simple blueprint for her windmill, instead she turned the project into a 10-foot tall tower encrusted with extrvagant quilt-like designs of cats and dogs, trees, stars and other designs. There are windmill blades which turn in the wind, but the structure is topped with a cement lawn jockey for no apparent reason.
Mollie Jenson closed her zoo in 1959, and its concrete structures soon fell into disrepair. After Mrs. Jenson's death in 1973, most of the art exhibit was dismantled or destroyed to prevent anyone from becoming hurt on the broken glass shards and dilapidated structures. But one structure survived.
Strangely enough, a very similar windmill appears on these 1960-era postcards, but located 30 miles away in Wilson, WI, as an eyecatching monument in front of Schultz's tourist court with the sign "Home Comfort". A stone birdbath and pump complement the windmill in the front yard. This windmill appears very similar, from the colorful mosaics of cat and dog encounter, to the tiers of upended bottles,and the incongruous yard jockey on top, and for many years I assumed that the same windmill appeared in both photos. But recently Lisa Stone pointed out to me that she had seen fragments of the original windmill in its original location in the 1980s, and that the "Home Comfort" windmill in Wilson has slight differences, such as a star mosaic to the right of the cat and dog panel, instead of a horseshoe in the original windmill. Did Mollie Jenson create artwork at other locations? Could this second windmill be a copycat creation by someone else? Perhaps there is a remnant of the second windmill still intact somewhere in Wilson, Wisconsin.
presented by Minnesota Museum of the Mississippi
---
Copyright ©2012 Matt Bergstrom