Reginald T. Sperry
R.T. Sperry was born in 1845 in Hartford, Connecticut, the youngest of three children of Dr. Theodore and Susan Sperry. His parents encouraged an early interest in art. As a young man, Sperry studied painting under Alfred Hart, who is best known for his later work as a railroad photographer.
At 24, Sperry moved to New York to attend the National Academy of Design in its new Venetian Gothic home at 23rd Street and Park Ave. Returning to Hartford after completing his studies, Sperry taught art at a local art academy and hung up his shingle as a commercial artist and designer, first as a painter of show cards and later specializing in wood engravings and drawing: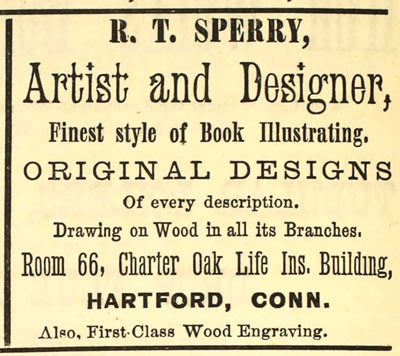 Wood engravings and lithograph sketches were commonly used for illustrations in newspapers and magazines before halftone photography technology improved in the 1890s. The magazine industry boomed in post-Civil War America, distributed nationwide by railroads and catering to a growing middle class. Sperry created small spot illustrations for short stories and larger engravings for title pages in publications of all kinds. In 1874 he landed a commission to illustrate Mark Twain's Sketches, a small pamphlet of the celebrity author's work published by the American News Company in New York. That same year, Sperry and Twain switched places, as the artist moved to New York, and the author moved to his celebrated Victorian mansion in Hartford.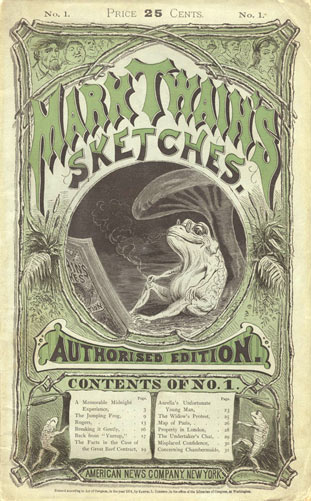 The completed 32-page pamphlet featured thirteen Twain stories and twelve Sperry drawings in an affordable format to be sold at newsstands and train stations. Unfortunately the pamphlet failed to draw an audience and the remaining copies were sold at a loss to an insurance company as advertising giveaways. Twain published Sketches again several years later as a proper book with illustrations by a different artist.
Sperry continued drawing and in the 1880s created two intricate paper cutout models which are fortunately preserved in the Library of Congress. As a boon for paper model enthusiasts, both cutout kits have been scanned and are viewable in high resolution on the Library of Congress website, making it possible to easily print copies and try assembling them.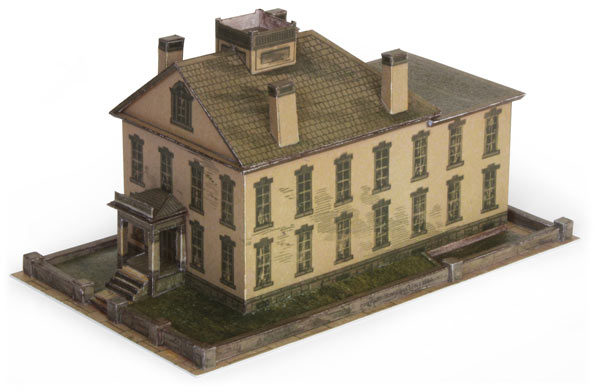 In 1880 Sperry was hired by Richard M. Johnson, manager of the New York office of the Travelers Insurance Company (located in the then-new Tribune Building skyscraper), to create a model of the home office of Travelers Insurance back in Hartford. The cut-out includes a short history of the building written on what becomes the back rooftop of the model. The building which looks like a house had previously been a residence occupied by a succession of prominent Hartford families before it became a business office for the insurance company.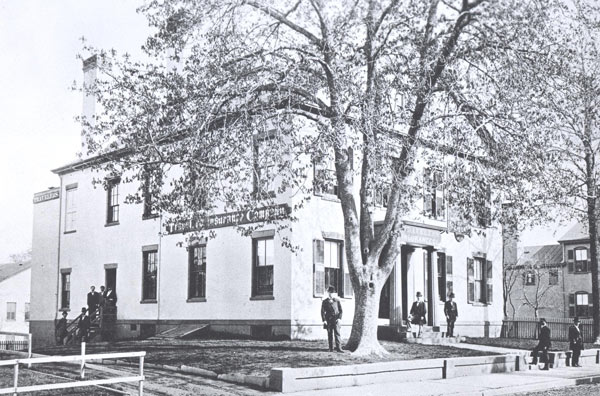 The next year, Johnson and Sperry teamed up again to publish a cutout model of the Plymouth Church in Brooklyn. This well-known church was then still led by its famous preacher, Henry Ward Beecher, the charismatic abolitionist and intellectual leader. And here we cross paths with Mark Twain again: his best-selling travelogue The Innocents Abroad is an account of a steamship tour taken with members of the Plymouth congregation a few years before the model was designed.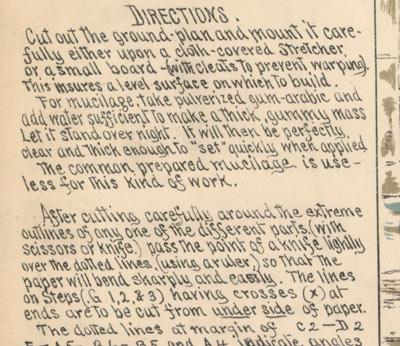 The written instructions printed alongside the models provide a glimpse into the challenges for paper model-makers in the nineteenth century. For attaching the pieces of the model, builders are advised to mix their own glue from powdered gum arabic soaked overnight into a "thick, viscous mass", rather than purchase store-bought mucilage, which the artist declares "is useless for this kind of work."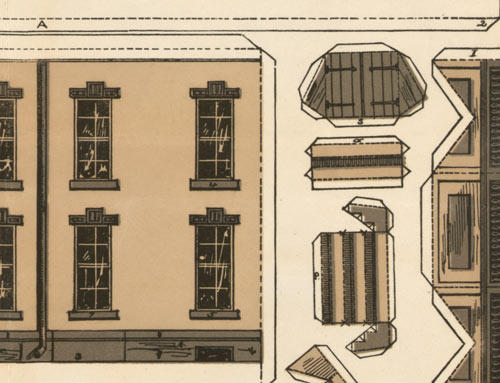 In other ways these 140-year-old paper kits are not so different from modern papercraft designs. Or rather, it is the modern papercraft designs which are not much changed since Sperry's day. Dashed lines indicate folds, and tiny x's mark reverse folds which are scored on the back side of the paper, just as they are marked on many kits nowadays. These two model designs were sophisticated kits with detailed artwork printed by several color plates. The large and small pieces are spread over several printed pages, which would have made a challenge for laying out the design and printing. The kits are not simplified toys for small children. Each model includes a base sheet to be glued to sturdy pasteboard. There are no construction diagrams to show the assembly, but tiny letters and numbers indicate the order of in which the pieces should be put together and written instructions help explain the steps.
Sperry left New York in about 1900 and lived for short periods in Milwaukee and Indianapolis while working for local engraving companies. It may have been difficult for him to find illustration work at a time when newspapers and magazines were increasingly using photography rather than pen-and-ink images on their pages. Eventually he returned to Hartford and continued working as an freelance illustrator as well as in the art office at a department store. He passed away in 1914 and is buried in Hartford's Zion Hill Cemetery.
In the Home Office model sheets, Sperry lists himself as a "designer of advertising novelties", but its unknown whether he ever created other papercraft promotions for other clients beyond these two surviving models:
| | | |
| --- | --- | --- |
| November 1880 | | The Home Office: Lithographed cutout model of Hartford Travelers Insurance office building, in collection of Library of Congress |
| December 1881 | | A Model of Plymouth Church, Brooklyn, N.Y.: Lithographed cutout model of the famous pastor Henry Ward Beecher's church, in collection of Library of Congress |
References
Art and Artists in Connecticut, Harry Willard French, Lee and Shepard Publishers, 1878

Mark Twain and His Illustrators, Vol II, Beverly David, Whitston Publishing Company, 2001