---
The Peace Monument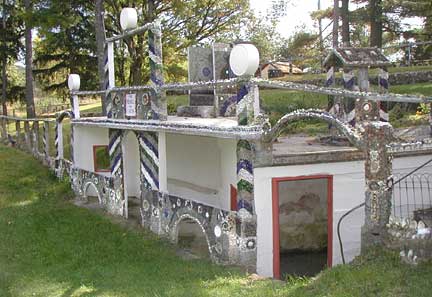 The most complex construction at the Wegner Grotto is the Peace Monument. Before the highway was widened and raised in the 1960s, this was the main entrance and focal point of the site. When visiting, try to imagine what it would have been like to pull off the road and park just outside the fence here. The lower level of the monument is built much like a simple roadside produce stand with a central door and low windows. Just behind and below is the Spring Room (the red-bordered doorway seen above), built around an artesian spring, which once cooled the bottles of soda pop the Wegners sold to visitors. Nowadays the Spring Room is a bit damp and disused, a gathering place for windblown thistles and spiders, but there is still something earthy and primal about the place, like the oracles and crypts in the basements of other shrines.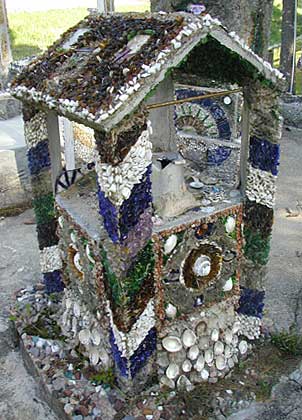 On the upper level of the Peace Monument, there is a shell and glass-encrusted Well of Jacob. The well is directly above the Spring Room below, but it appears to be more symbolic than a real functioning source of water.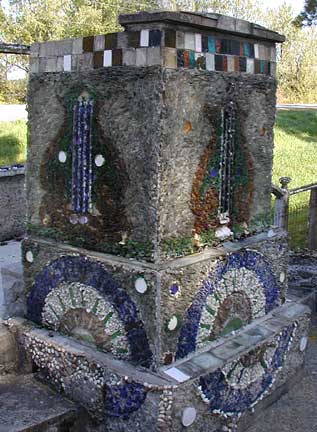 Near the well there is a box-like pulpit covered with red-white-and-blue glass buntings, looking more like a candidate's speech box than a preacher's lectern. Instead of facing out over the balcony to the roadside, the pulpit faces toward the grassy terraced hillside, making the entire paved upper level of the Peace Monument a small stage. The natural slope of the hillside seating would make this the perfect place to address a small group or peform for a hundred spectators.
presented by Minnesota Museum of the Mississippi
---
Copyright ©2012 Matt Bergstrom