---
The Glass Church
The Glass Church is a tiny chapel, glstening with embedded shards of colored glass on walls and rooftop. What makes the little building especially interesting is the glass murals on the exterior, depicting houses of worship of various faiths around the world. Above the door there is a mirrored Star of David to symbolize the Jewish faith, beneath it the words One God One Brotherhood. To the left, a tall spire represents the Lutheran church, to the right a Romanesque building represents the Catholic church. In many towns in the Midwest in the early part of the 20th century, the Lutheran and Catholic churches formed the major division of society.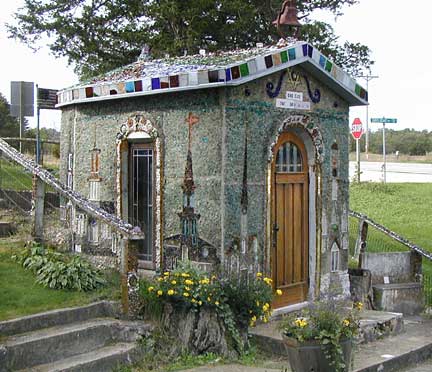 Around the other sides of the Glass Chapel are depicted architectural symbols of Evangelical, Unitarian, Greek Orthodox, United Brethren and Baptist churches. The images were apparently copied from postcard views. They remind me of the little mosaic churches in the courtyard of La Maison Picassiette in Chartres.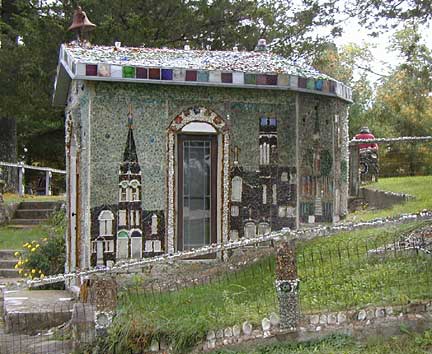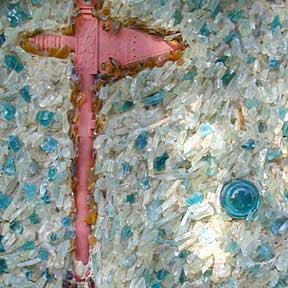 Glass insulators and a clay pipe which becomes the spire on top of the Evangelical church.
Peeking inside the tiny chapel, we see a whitewashed room, with an ornate glass altar at the end. Unlike the glass confections at the heart of the Grotto of the Blessed Virgin at Dickeyville, this chapel shows its most elaborate work on the outside, but the interior is quaint and cozy in its simplicity. Here and there, light shines into the chapel from bottles set into the walls, with their bottoms on the exterior and necks on the inside, a fascinating merging of inside and outside, as a one-bottle stained glass window.
Note the clever details, like the embedded perfume bottle stoppers on the sides of the altar which become curtain tie-backs (on the edges of the postcard photo above). Small marble tablets on either side of the altar represent the 10 Commandments.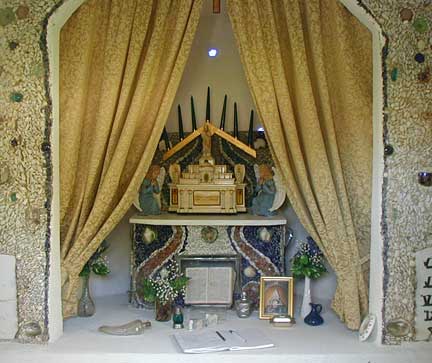 presented by Minnesota Museum of the Mississippi
---
Copyright ©2012 Matt Bergstrom