March 1989
April 1989
June 1989
March 1989
August 1989
April 1990
July 1990
August 1990
October 1990
January 1991
July 1991
December 1991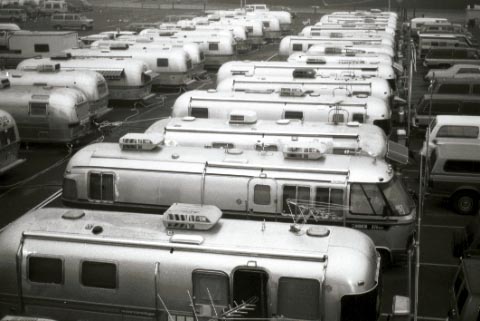 Airstreams land in Duluth
by Pat Kelley
I drove up to Duluth via Interstate 35 on a cold, drizzly afternoon. As I passed by the stainless steel wing sculpture at the Duluth visitor's center, I began to worry about my sleeping arrangements. This stressful event has become a normal, end-of-the-road mental crisis for one who never plans ahead before traveling. This time, however, I overcame my fears by simply deciding not to fret at all. I always have the shelter of the back of my faithful travel charm, my father's 1976 Ford Ranger with a somewhat custom-fitted camper/topper. Things would work out, I told myself, perhaps a hundred times, I had a mission after all.
I had been in Duluth the weekend before for Grandma's Marathon, a spectacular event deserving another story some other time. The race finished just yards short of the famous Duluth High Bridge, exploited numerous times on various Minnesota postcards. Also in that area stands the rather modern-looking Duluth City Convention Center, complete with the expansive parking area. It was here that I saw the cluster of shiny metal trailers beginning to form. A week later, despite the dulling effects of the weather, the now matured cluster of Airstream trailers glistened blue and grey in their perfect rows in front of the Center, like pilgrims on their knees to the east.
I entered the Center without a fee or suspicion. Actually I was just wondering where all the people were. Soon I heard applause coming from the innards of the circular main building, so I entered the hallway which curved around the perimeter. The sound became clearer, it was Rosemary Cluney's somewhat husky voice backed up with the big band sound. I peeked through a curtain into the large auditorium and there they were: a large clump of the members of the WBCCI, the Wally Byam Caravan Club International.
I approached the trim, not so recently retired man, who was sitting out Miss Cluney's repertoire. I was kind of nervous. I still felt like I had sneaked in to this Airstreamers' gala event. His name was Ed Givens, which I recorded into my notebook from his nametag. All the Airstreamers wore large nametags on strings around their necks. Like the others, his tag revealed to the curious just how far this mature continent rover had come, all the way from South Florida. Mr. Givens, also like the other Airstreamers, was quite kind and one could see that he was eager to tell me more about the WBCCI.
Wally Byam was the original designer of the Airstream travel trailer. These trailers are large wonders. Those gleaming metallic shells are basically houses in disguise. They hold complete sanitary facilities including running water for the showers and toilets. Gas ranges, ovens, microwaves, televisions, stereo systems, air-conditioning are all typical features in these ultimate roadtrip "trailer packages", which range from 17 to 34 feet in length. The owners, the majority of them retired folks, travel in them all over North America. Some, as Mr. Givens put it, are, "full-timers," or nomadic couples who have let go of the static house concept entirely and live in their trailers year-round.
However, since 1956 or so, these carefree wanderers have been coming together once a year, to one sacred ground, for a meeting of souls. The location of the INTERNATIONAL RALLY wanders itself, and the next year's meeting ground is decided at each convention. Every year the rally is held during the week leading up the Fourth of July, also Mr. Byam's birthday. The Independence celebration with a grand fireworks display upon the climax of the week is twofold: it is of their feeling of patriotism toward their free nation and their freedom to wander about this nation in their Airstreams.
I was overwhelmed. My short excursion led me to discover yet another culture within our country. All worries about finding somewhere to sleep that night had been diluted until harmless by the spirit of these young at heart explorers. However, I began to question my own mode of travel. It wasn't exactly a self-contained travel home, but it did provide shelter for me that night in a dark, unnoticed corner of a Duluth hotel parking lot.
photo by Pat Kelley