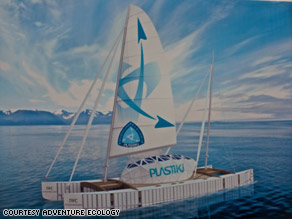 Adventurer David de Rothschild is building a catamaran from plastic soda bottles to sail across the Pacific.
The Plastiki is being made in San Francisco from mostly recycled materials, with over 12,000 2-liter bottles providing flotation for the craft. Each bottle is washed and then fully inflated with a bit of dry ice. When building my Kola-Tiki raft several years ago, I employed a similar technique of placing the washed bottles in the freezer before capping them, so that the expanding air inside pops out the dents of the plastic bottles.
Last summer bottle-raft sailor Marcus Erickson sailed a similar, though junkier craft, the Junk Raft, from California to Hawaii to draw attention to the vast amount of trash plastic polluting the midst of the Pacific.
Follow the progress of the Plastiki expedition at: www.adventureecology.com