---
Bottle Houses
Many postcard images of Rockome depict two bottle houses, which were an intriguing attraction at the park until early 2006. I suspect these bottle houses were built in the 1960s, inspired by the ghost town bottle house at Knott's Berry Farm in California (which was in turn inspired by the famous authentic bottle house of Rhyolite, Nevada).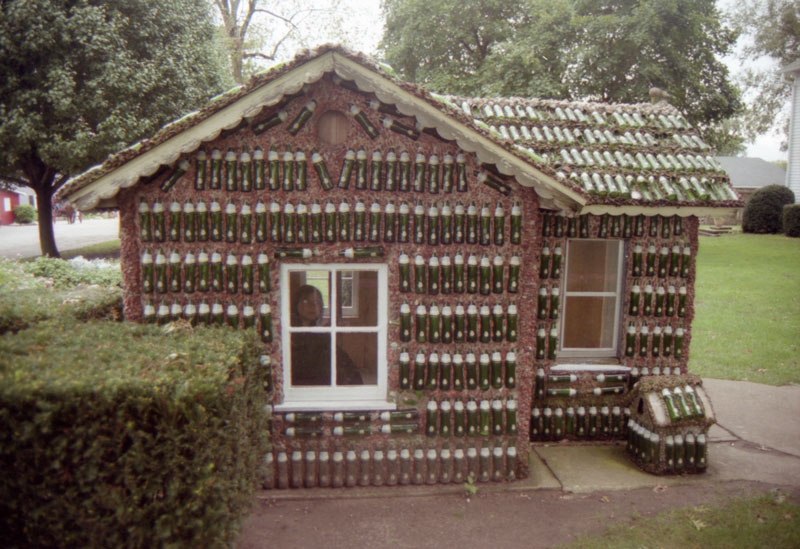 The Fresca Bottle House incorporated nearly 2400 Fresca bottles in its construction. It is a cute little playhouse with tiny chairs and table inside. There is even a tiny Fresca bottle dog house by the door.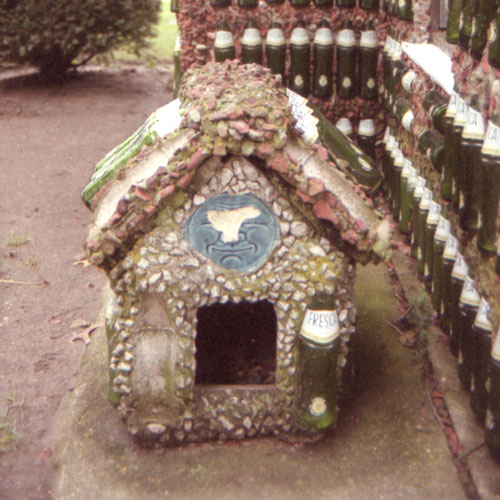 From the inside, the play house is revealed as a somewhat crude plywood construction with a thin layer of concrete plastered over the outside in which the bottles are embedded. Many bottles, especially those on the roof, have shattered due to frost and snow, or have simply leaped out of their places. Most of the bottles have their necks covered by mounds of cement in order to prevent rain entering them, but smooth glass bottles are difficult to bond to concrete.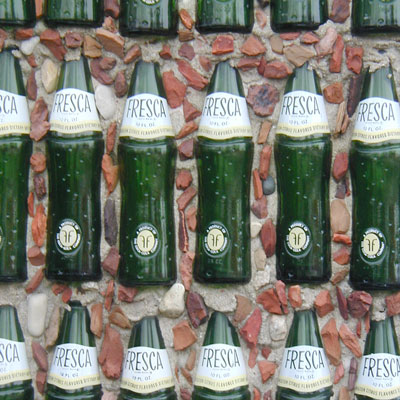 Following a sidewalk past the Amish farm house, we came to another, simpler bottle house. The 7UP Bottle House was a rectangular box with no windows and features nearly 1200 bottles. Perhaps this house was built before the other, as a sort of test? In any case they are built in much the same way. Behind the bottle house in the postcard above are the much older twin lighthouses, built in the 1930s or 40s.
In early 2006 the two bottle houses were damaged during attempts to move them. Due to their already fragile condition, the park owners decided to take down the bottle houses.
presented by Minnesota Museum of the Mississippi
---
Copyright ©2012 Matt Bergstrom